Bay Link Manufacturing's website may be viewed at http://www.greenbay.k12.wi.us/District-Board/Special-Programs/Pages/Bay-Link-Manufacturing-.aspx.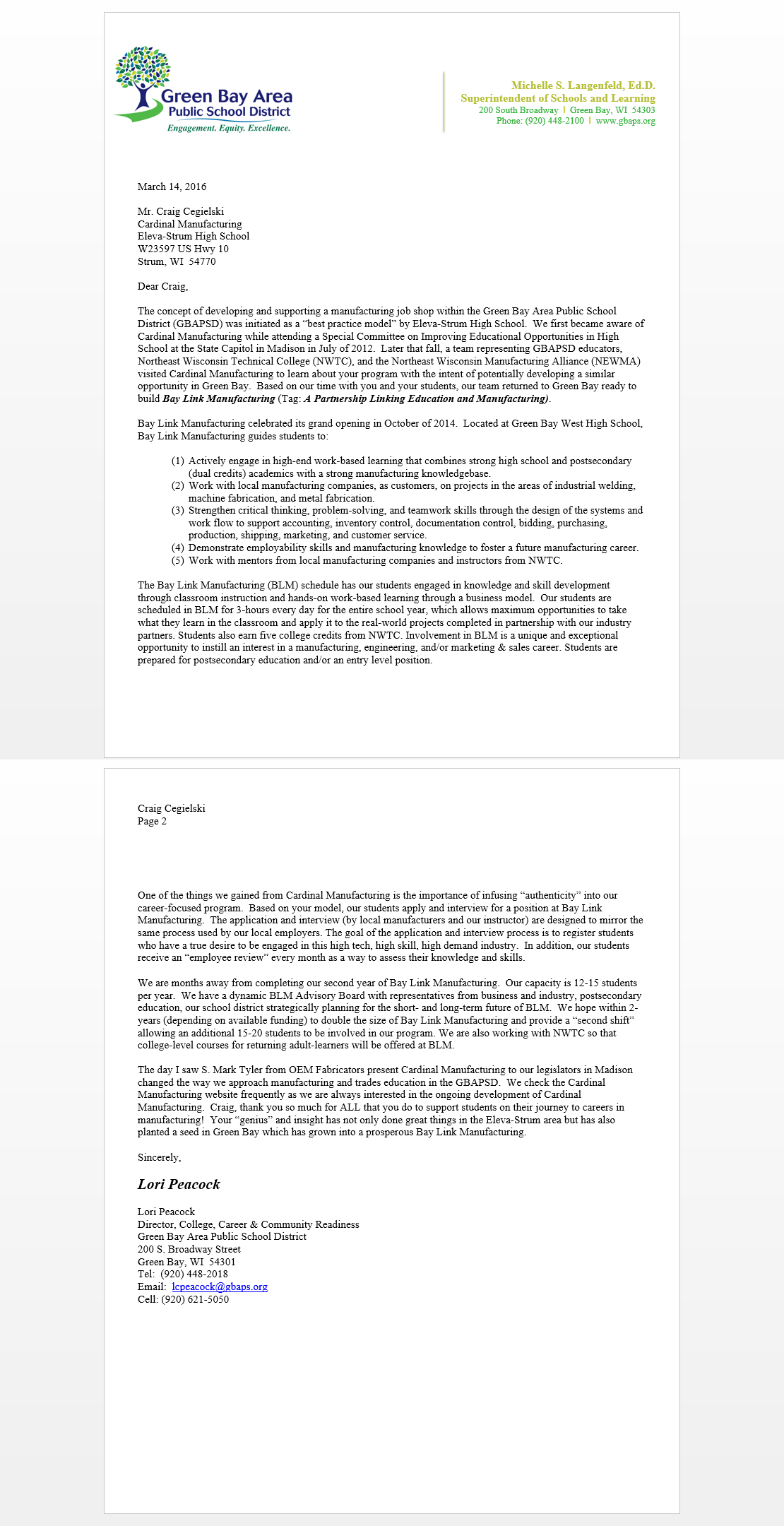 Read the complete text of Green Bay's testimonial letter below:
March 14, 2016
Mr. Craig Cegielski
Cardinal Manufacturing
Eleva-Strum High School
W23597 US Hwy 10
Strum, WI 54770
Dear Craig,
The concept of developing and supporting a manufacturing job shop within the Green Bay Area Public School
District (GBAPSD) was initiated as a "best practice model" by Eleva-Strum High School. We first became aware of Cardinal Manufacturing while attending a Special Committee on Improving Educational Opportunities in High School at the State Capitol in Madison in July of 2012. Later that fall, a team representing GBAPSD educators, Northeast Wisconsin Technical College (NWTC), and the Northeast Wisconsin Manufacturing Alliance (NEWMA) visited Cardinal Manufacturing to learn about your program with the intent of potentially developing a similar opportunity in Green Bay. Based on our time with you and your students, our team returned to Green Bay ready to build Bay Link Manufacturing (Tag: A Partnership Linking Education and Manufacturing).
Bay Link Manufacturing celebrated its grand opening in October of 2014. Located at Green Bay West High School, Bay Link Manufacturing guides students to:
Actively engage in high-end work-based learning that combines strong high school and postsecondary (dual credits) academics with a strong manufacturing knowledgebase.

Work with local manufacturing companies, as customers, on projects in the areas of industrial welding, machine fabrication, and metal fabrication.

Strengthen critical thinking, problem-solving, and teamwork skills through the design of the systems and work flow to support accounting, inventory control, documentation control, bidding, purchasing, production, shipping, marketing, and customer service.

Demonstrate employability skills and manufacturing knowledge to foster a future manufacturing career.

Work with mentors from local manufacturing companies and instructors from NWTC.
The Bay Link Manufacturing (BLM) schedule has our students engaged in knowledge and skill development through classroom instruction and hands-on work-based learning through a business model. Our students are scheduled in BLM for 3-hours every day for the entire school year, which allows maximum opportunities to take what they learn in the classroom and apply it to the real-world projects completed in partnership with our industry partners. Students also earn five college credits from NWTC. Involvement in BLM is a unique and exceptional opportunity to instill an interest in a manufacturing, engineering, and/or marketing & sales career. Students are prepared for postsecondary education and/or an entry level position.
Craig Cegielski
Page 2
One of the things we gained from Cardinal Manufacturing is the importance of infusing "authenticity" into our career-focused program. Based on your model, our students apply and interview for a position at Bay Link Manufacturing. The application and interview (by local manufacturers and our instructor) are designed to mirror the same process used by our local employers. The goal of the application and interview process is to register students who have a true desire to be engaged in this high tech, high skill, high demand industry. In addition, our students receive an "employee review" every month as a way to assess their knowledge and skills.
We are months away from completing our second year of Bay Link Manufacturing. Our capacity is 12-15 students per year. We have a dynamic BLM Advisory Board with representatives from business and industry, postsecondary education, our school district strategically planning for the short- and long-term future of BLM. We hope within 2-years (depending on available funding) to double the size of Bay Link Manufacturing and provide a "second shift" allowing an additional 15-20 students to be involved in our program. We are also working with NWTC so that college-level courses for returning adult-learners will be offered at BLM.
The day I saw S. Mark Tyler from OEM Fabricators present Cardinal Manufacturing to our legislators in Madison changed the way we approach manufacturing and trades education in the GBAPSD. We check the Cardinal Manufacturing website frequently as we are always interested in the ongoing development of Cardinal Manufacturing. Craig, thank you so much for ALL that you do to support students on their journey to careers in manufacturing! Your "genius" and insight has not only done great things in the Eleva-Strum area but has also planted a seed in Green Bay which has grown into a prosperous Bay Link Manufacturing.
Sincerely,
Lori Peacock
Lori Peacock
Director, College, Career & Community Readiness
Green Bay Area Public School District
200 S. Broadway Street
Green Bay, WI 54301