Speaker's Task Force on Youth Workforce Readiness Notice
March 1, 2016
Assembly
PUBLIC HEARING
Speaker's Task Force on Youth Workforce Readiness
---
The committee will hold a public hearing on the following items at the time specified below:
Tuesday, March 29, 2016
10:00 AM
Eleva-Strum High School Auditorium
W23597 US-10, Strum, WI
The Task Force will hear invited testimony from the following individuals and organizations:
Cory Kulig, Eleva-Strum High School Principal
Dan Conroy, Retired Vice President of Human Resources at Nexen Group Matt Guse, Owner of MRS Machining
Craig Cegielski, Eleva-Strum Technical Education Teacher Bruce Barker, President of Chippewa Valley Technical College
Jeff Sullivan, Dean of Industry, Agriculture and Energy at Chippewa Valley Technical College
Lynette Livingston, Dean of Business and Academic Initiatives of Chippewa Valley Technical College
Steve Plendle, Chippewa Valley Technical College Machine Tool Instructor Todd Wenzel, President of the Precision Metal Forming Association
Colin Nyseth, Student in Cardinal Manufacturing
Katie Solfest, Student in Cardinal Manufacturing Cole Nichols, Student in Cardinal Manufacturing Grant Austin, Student in Cardinal Manufacturing
Tyson Rohscheib, Former student production manager of Cardinal Manufacturing
Paula Haugle, Elmwood School Counselor
Jenn Slusser, Transition Coordinator for Holmen High School
Kristine North and Helen Glaser, Special Education teacher and student for New Auburn High School
Candyce Lund, Director of Instructional Services for CESA 10
Additional invited speakers may testify. Members of the Speaker's Task Force on Youth Workforce Readiness will break from the hearing for a tour of Cardinal Manufacturing, which is on the premise. Members of the media and the public are welcome to join the Task Force on the tour. The Task Force will not take executive action nor receive testimony during the tour. After the tour is completed the Task Force will reconvene in the Auditorium to receive testimony
---
Representative Bob Kulp
Chair
---
I have been asked about teleconferencing for this hearing. That option will not available for this hearing. However, if members are unable to make it, but would like to watch the hearing it will be live-streamed from the school. Here's the instructions from Craig Cegielski of Eleva-Strum:
Here is the direct link to the site. http://www.esschools.k12.wi.us/cardinaltv.cfm
Just go to this link and select which type of device you will be watching on. This will be shown live and then archived and be able to be watched at a later date also. Might not be up for a few days after the event to be viewed again.
People can also just go to the Eleva-Strum High School website and click on the Cardinal TV option and this will take them to the link that I provided for you above.
I hope to see most of you tomorrow. If you have any other questions, feel free to contact my office (608-267-0280).
Make it a Great Day!
Bob Kulp
---
Jeff Janis Meet and Greet
May 26, 2016
Meet Green Bay Packer Jeff Janis
Saturday, June 4th, 2016, 2:00 p.m. to 4:00 p.m.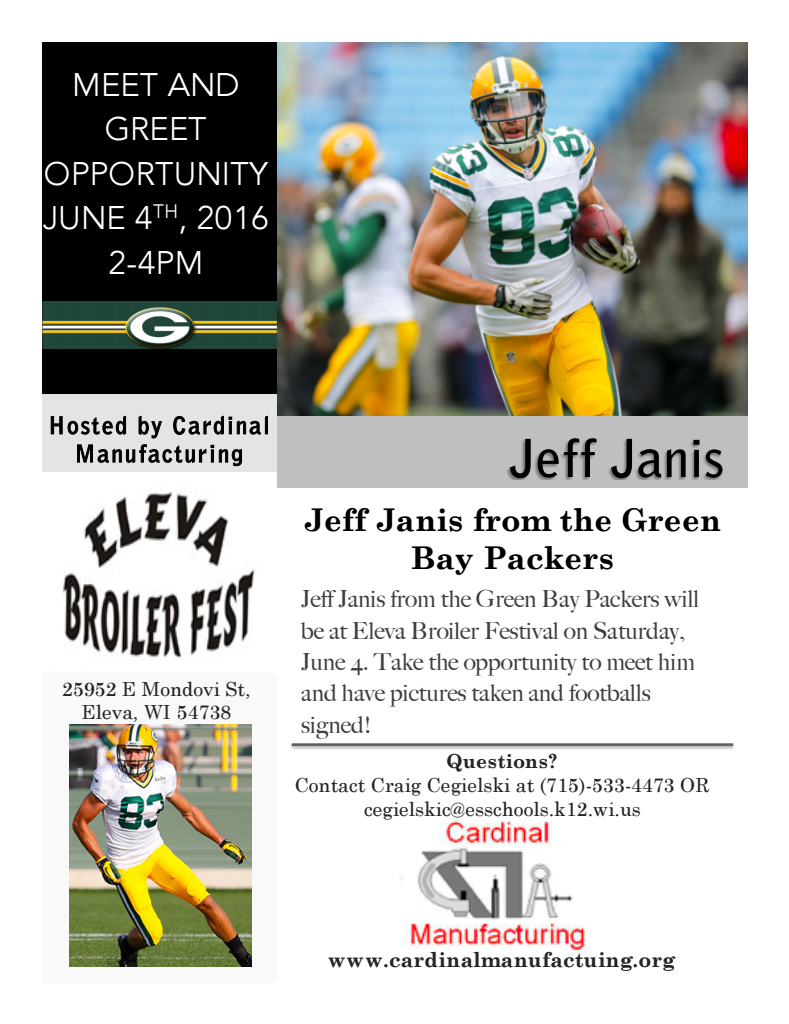 Teacher Award
July 27, 2015
Cardinal Manufacturing founder and instructor Craig Cegielski has been named 2015-216 Monsanto Fund Rural Teacher of the Year. Purdue University's John Hill, Executive Director of the National Rural Education Association made the announcement July 27, 2015. Read more below.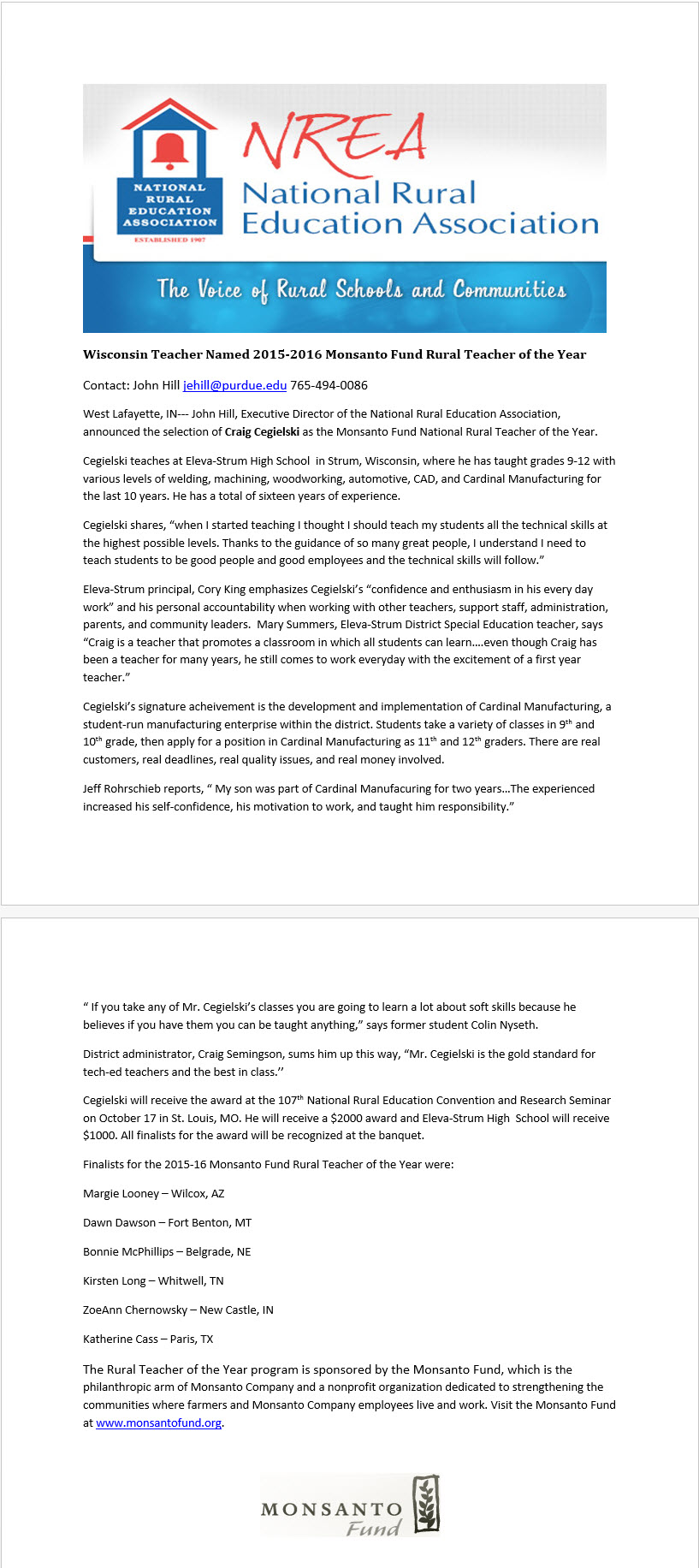 Appreciation Night
April 9, 2015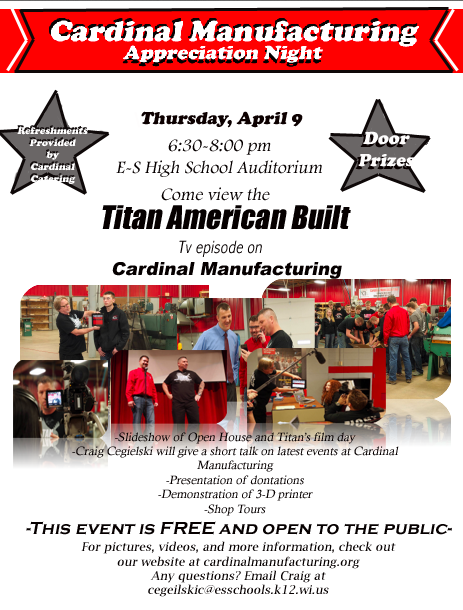 Nexen New Machine Challenge
Sept 15, 2014
[editor's update May, 2015 - The Nexen Challenge was completed successfully, raising over $75,000 for new machinery and improvements in the Cardinal Manufacturing Program. Thank you to all who have and are participating on all levels. We continue to ask for your financial support in any amount, large or small, to fund continuing improvements to this groundbreaking program.]
The Nexen Group of Webster, Wisconsin, and its owner, Hutch Schilling and VP of Human Resources, Dan Conroy, have been significant supporters of Cardinal Manufacturing over the years. They have donated, provided guidance and letters of support for the program, and been customers of the operation, as well.
During the 2014-15 academic year, the Nexen Group corporation and Dan Conroy, individually, have offered a $37,500 donation toward the cost of a CNC Machine for Cardinal Manfuacturing—half its anticipated price tag—if Cardinal Manufacturing can raise the rest of the funds needed for the purchase.
Want to help Cardinal Manufacturing reach this goal? Please send donations to:
Cardinal Manufacturing-Nexen Challenge
c/o Eleva-Strum School District
attn: Craig Cegielski
W23597 US Hwy 10
Strum, WI 54770