"Filling the Skills Gap, One Student at a Time" is the slogan by which Cardinal Manufacturing thrives. Teaching students real job skills and simultaneously imparting critical life skills like respect, responsibility, and teamwork, Cardinal Manufacturing prepares students for success by any standard. The skills learned provide students extraordinary opportunities to earn a great living wage while still in high school.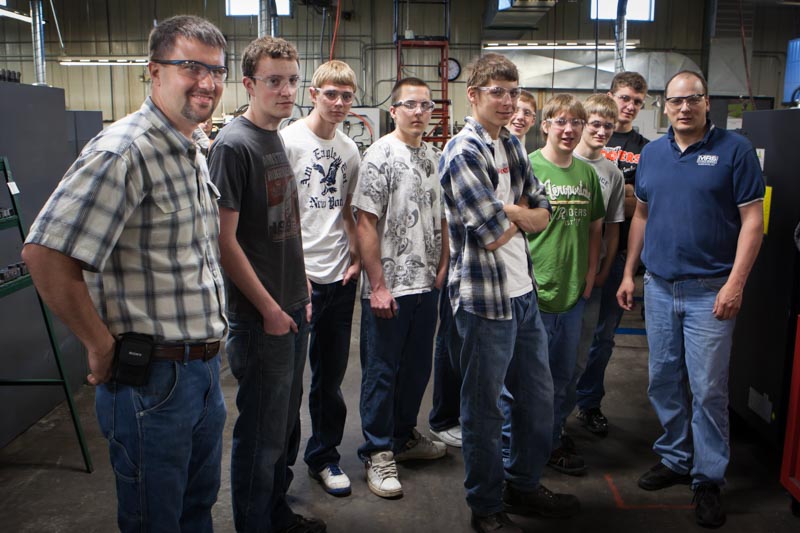 During this tour of MRS Machining, Matt Guse of MRS Machining introduces students of the Cardinal Manufacturing program to exciting career opportunities in precision manufacturing. MRS has been a Cardinal partner for over 10 years, donating machines and providing internships and job opportunities. Matt says partnering with Cardinal is "win-win, a no-brainer."The innovative program at Cardinal Manufacturing is made possible in large part through the collaboration and contributions of businesses and individuals. Small and large donations alike are crucial to the success of the program. Supporting Cardinal Manufacturing, you and your company can change lives and reshape our technical education system. You can simultaneously benefit by nurturing a high quality next-generation American workforce.
Cardinal Manufacturing has a strategic plan in place for continued growth and improvement of the program. Partnerships can take many different shapes. The first way you can partner with Cardinal Manufacturing is through career mentorships. Career mentoring for our student employees can include anything from post-secondary educational track advice, job shadowing, and in some cases part-time employment. The second way you can partner with Cardinal Manufacturing is through material or equipment donations. Businesses often find themselves with leftover raw materials, tools, or a piece of equipment that needs a new home. Cardinal Manufacturing has been the fortunate recipient of many of these contributions over the years and is always accepting donations. The third way to partner with Cardinal Manufacturing is through monetary donations. Some items needed by Cardinal Manufacturing are simply too large for any one donor to provide and can only be accomplished through the combination of various monetary donations to the program. In an effort to always be improving, Cardinal Manufacturing has a prioritized list of projects and equipment purchases to continue the development of meaningful and interesting learning opportunities for students.
Cardinal Manufacturing has an ever-growing list of proud partners ranging from businesses in the Eleva-Strum Community to National Corporations. Our partners have a hand in helping our program fill the skills gap and help our students achieve their goals.