At Cardinal Manufacturing and Eleva-Strum Schools, we're proud to act as a catalyst for educators and schools across the country. Here's stories about other schools we have impacted.
Bay Link Manufacturing

Cub Manufacturing

Rocket Manufacturing
Bay Link Manufacturing's website may be viewed at http://www.greenbay.k12.wi.us/District-Board/Special-Programs/Pages/Bay-Link-Manufacturing-.aspx.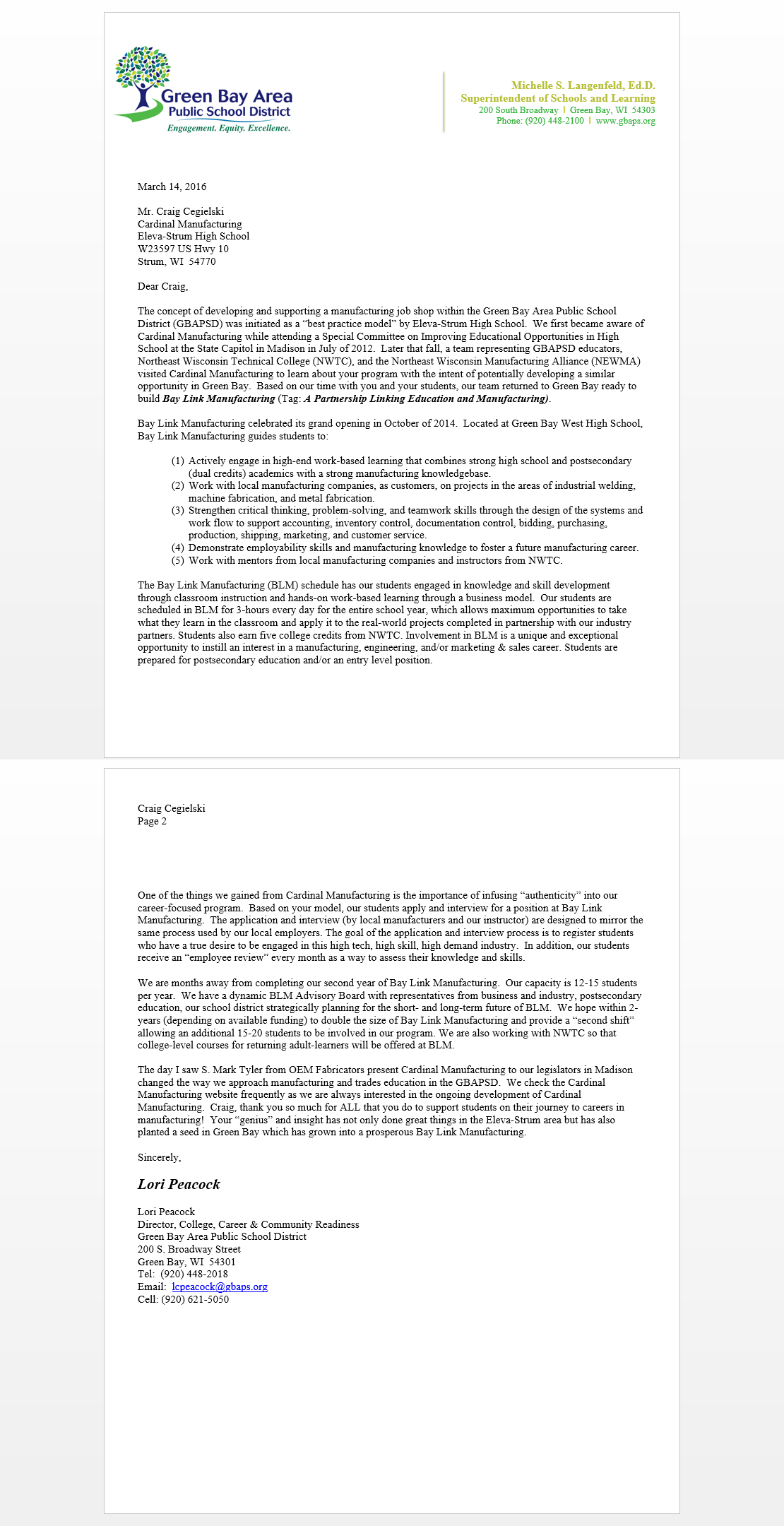 Read the complete text of Green Bay's testimonial letter below:
March 14, 2016
Mr. Craig Cegielski
Cardinal Manufacturing
Eleva-Strum High School
W23597 US Hwy 10
Strum, WI 54770
Dear Craig,
The concept of developing and supporting a manufacturing job shop within the Green Bay Area Public School
District (GBAPSD) was initiated as a "best practice model" by Eleva-Strum High School. We first became aware of Cardinal Manufacturing while attending a Special Committee on Improving Educational Opportunities in High School at the State Capitol in Madison in July of 2012. Later that fall, a team representing GBAPSD educators, Northeast Wisconsin Technical College (NWTC), and the Northeast Wisconsin Manufacturing Alliance (NEWMA) visited Cardinal Manufacturing to learn about your program with the intent of potentially developing a similar opportunity in Green Bay. Based on our time with you and your students, our team returned to Green Bay ready to build Bay Link Manufacturing (Tag: A Partnership Linking Education and Manufacturing).
Bay Link Manufacturing celebrated its grand opening in October of 2014. Located at Green Bay West High School, Bay Link Manufacturing guides students to:
Actively engage in high-end work-based learning that combines strong high school and postsecondary (dual credits) academics with a strong manufacturing knowledgebase.

Work with local manufacturing companies, as customers, on projects in the areas of industrial welding, machine fabrication, and metal fabrication.

Strengthen critical thinking, problem-solving, and teamwork skills through the design of the systems and work flow to support accounting, inventory control, documentation control, bidding, purchasing, production, shipping, marketing, and customer service.

Demonstrate employability skills and manufacturing knowledge to foster a future manufacturing career.

Work with mentors from local manufacturing companies and instructors from NWTC.
The Bay Link Manufacturing (BLM) schedule has our students engaged in knowledge and skill development through classroom instruction and hands-on work-based learning through a business model. Our students are scheduled in BLM for 3-hours every day for the entire school year, which allows maximum opportunities to take what they learn in the classroom and apply it to the real-world projects completed in partnership with our industry partners. Students also earn five college credits from NWTC. Involvement in BLM is a unique and exceptional opportunity to instill an interest in a manufacturing, engineering, and/or marketing & sales career. Students are prepared for postsecondary education and/or an entry level position.
Craig Cegielski
Page 2
One of the things we gained from Cardinal Manufacturing is the importance of infusing "authenticity" into our career-focused program. Based on your model, our students apply and interview for a position at Bay Link Manufacturing. The application and interview (by local manufacturers and our instructor) are designed to mirror the same process used by our local employers. The goal of the application and interview process is to register students who have a true desire to be engaged in this high tech, high skill, high demand industry. In addition, our students receive an "employee review" every month as a way to assess their knowledge and skills.
We are months away from completing our second year of Bay Link Manufacturing. Our capacity is 12-15 students per year. We have a dynamic BLM Advisory Board with representatives from business and industry, postsecondary education, our school district strategically planning for the short- and long-term future of BLM. We hope within 2-years (depending on available funding) to double the size of Bay Link Manufacturing and provide a "second shift" allowing an additional 15-20 students to be involved in our program. We are also working with NWTC so that college-level courses for returning adult-learners will be offered at BLM.
The day I saw S. Mark Tyler from OEM Fabricators present Cardinal Manufacturing to our legislators in Madison changed the way we approach manufacturing and trades education in the GBAPSD. We check the Cardinal Manufacturing website frequently as we are always interested in the ongoing development of Cardinal Manufacturing. Craig, thank you so much for ALL that you do to support students on their journey to careers in manufacturing! Your "genius" and insight has not only done great things in the Eleva-Strum area but has also planted a seed in Green Bay which has grown into a prosperous Bay Link Manufacturing.
Sincerely,
Lori Peacock
Lori Peacock
Director, College, Career & Community Readiness
Green Bay Area Public School District
200 S. Broadway Street
Green Bay, WI 54301
Cub Manufacturing, Madison, IN
The plastics industry and other manufacturers requiring skilled workers suffer from a nationwide skills gap. Skilled workers are in short supply. MAPP, the Manufacturers Association for Plastics Processors (http://www.mappinc.com) is working to make a difference. At MAPP's October 2014 Benchmarking Conference in Indianapolis, Indiana, Roger Williams, President of Royer Corporation, heard Craig Cegielski's story about Cardinal Manufacturing. Within just a year, a new program was launched. Watch the video below to learn more.
Video copyright 2015 by JumpCuts, LLC

May 21, 2015 the Cub Mfg project at Madison Consolidated High School, Madison, IN, was named 2nd Runner Up in the Bridgestone Tire: Fuel The Cause contest. The project will receive a $3,000 grant toward the project.
Watch Cub Manufacturing's Rapid Setup

During Cub Manufacturing's setup during the summer of 2015, Teacher Ryan Lamb and the students working on it posted the following updates. See the evolution in the words and photos of those making a difference.

August 14, 2015 Cub Manufacturing Update
Rocket Mfg, Rock Valley, IA
Another great success story modeled after Cardinal Mfg. April of 2015, Chad Janzen, the Superintendent of Schools for Rock Valley Schools wrote a thank you note to Craig Cegielski of Cardinal Mfg thanking the Cardinal program for the inspiration. By September, a new 10,000 square foot facility was in production. May of 2016 he provides a follow-up summary of the success to date. Read more about it below.
---
Craig,

We are nearing the end of the first full year of Rocket Manufacturing. Our kids have done a tremendous job. We visited Cardinal Manufacturing four years ago…without your vision, we wouldn't be where we are today. If you'd like to peruse what we are doing, here is link to our publicity page: http://rocketmanufacturing.weebly.com/publicity.html. There a couple videos on the site…the first is a news story from last October and the other is from a state video contest on "Why stay in Iowa." We estimate we will have $20,000 in revenue (not profit). The growth by each individual student has been amazing. All the things you talked about, we have seen…and it is only the end of our first year!

Thanks again for your model! I know it has been a long time since our visit and that you get many visitors and we can see on your website all the great thing you are doing. Just wanted to let you know that someone that visited took your vision to heart and did something about it. Hope you've had a great year!



Chad Janzen, Superintendent, Rock Valley CSD, Home of the Rockets & Nighthawks, phone 712-476-2701
---
Craig,

We are well on our way in implementing Rocket Manufacturing. We're in the process of completing our new 10,000 square foot shop. We started our class this semester with the hopes of visiting local manufacturing businesses, bringing them to us, and spending time building tables, etc. for the new shop. We are already ahead of schedule. The students are making custom-made gates for local farmers. They are also designing a custom-built dog kennel for the back of a pickup. Attached is our first gate delivery.

It has been amazing the support we have received so far. We have 3 CNC machines lined up from local businesses along with a variety of things we have purchased well below market cost. Thank you for inspiring us to do great things!

3/31/2015, Chad Janzen, Superintendent, Rock Valley CSD, Rock Valley, Iowa
---
The following article introduction is from the Sioux City Journal. Click the link below to read the entire content on the paper's website.